as seen on Twitter:
https://twitter.com/PeoplesMomentum/status/1067841544458305537
—
—
—
Video:
—
—
—
CrimethInc. — The Yellow Vest Movement in France–Between… – In short: if the wave of nationalist victories still sweeping the globe eventually gives way to a centrist backlash, but anarchists and other revolutionaries are not able to popularize tactics and movements that adequately address the catastrophies that so many people are facing, that could pave the way for an even more extreme wave of far-right populism.
We should study populist social movements under centrist governments in order to identify the ways that far-right groups can hijack them—and figure out how we can prevent that. This is one of the reasons to pay close attention to the "yellow vests" movement unfolding right now in France under the arch-centrist President Macron.
The "yellow vests" movement shows the strange fractures that can open up under the contradictions of modern centrism: above all, the false dichotomy between addressing global warming and addressing the ravages of capitalism. This dichotomy is especially dangerous in that it gives nationalists a narrative with which to capitalize on economic crisis while discrediting environmentalism by associating it with state oppression.
—
Michael Chessum // The far right is marching for Brexit. Will the left stand against it? | Michael Chessum | Opinion | The Guardian – For two years now, the British left has been trapped in a logic of triangulation on Brexit. The overwhelming majority of the left backed remain in 2016, and the overwhelming majority of Labour members now back a fresh referendum. But as Robinson and Ukip march, many on the left, hamstrung by loyalty to the Labour leadership's fudge on the subject, will attempt to argue the impossible: that the left should oppose the far right, but accept its greatest achievement.
The Brexit Betrayal march is not some glorious last hurrah of the pro-Brexit far right. It is a sign of things to come. Labour's position on Brexit has been driven by electoral calculation, but some also raised the argument that continuing to oppose Brexit would boost racism and stoke division. The reality is the precise opposite: the Brexit moment has irretrievably emboldened the far right and its narratives. The genie is out of the bottle. The question is whether the left has both the radical solutions to the social crisis on which it feeds, and the intellectual courage to defeat it.
It is the latter of these that should give us the most cause for alarm. When the likes of Hillary Clinton argue that progressives can beat the far right by erecting more borders, many rightly slam this idea. But in truth, the left is also ceding ground. When a left Labour leadership, and a sizeable chunk of the activist left, will no longer even defend free movement, we cannot be under any illusions that this is anything other than an accommodation to the righ
—
SOS Racismo // SOS Racismo exige mayores esfuerzos para la reparación a las víctimas de la discriminación y racismo – SOS Racismo alerta de las normalización de las identificaciones por perfil étnico tanto en la frontera hispanofrancesa, como dentro del territorio del estado
En el informe, que se publicará en su integridad en los próximos días en la página web de la Federación (www.sosracismo.eu), se recogen en torno a los 350 actos racistas en todo el Estado, de los que la mayor parte tienen que ver con el conflictos y agresiones racistas, racismo institucional, siguiéndoles a cierta distancia el resto de tipologías: problemas con la seguridad pública, denegación de acceso a prestaciones y servicios públicos, discriminación laboral, denegación de acceso a servicios privados, problemas relacionados con agentes de la seguridad privada o casos relacionados con la extrema derecha o el discurso del odio. Estas cifras en palabras de Mikel Mazkiaran, Secretario General de SOS Racismo, suponen "más allá de las cifras, una fotografía de una realidad que debemos poner encima de la mesa para abordar soluciones que eviten, no sólo los insultos, agresiones o conflictos vecinales que sufren estas personas, sino también el deterioro en la convivencia en nuestras localidades".
—
Emanuella Grinberg, Jamiel Lynch and Madeline Holcombe //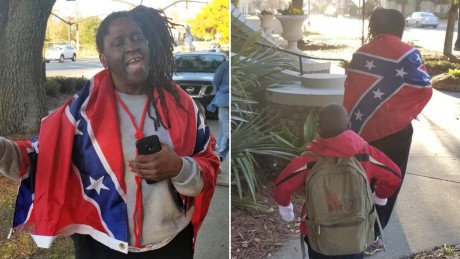 Woman wears Confederate flag to vote in Mississippi … and then lays it on grave of civil rights leader – CNN – In years' past, Bivins said, she would often visit Dahmer's grave on election days. This year, she and her grandson laid the Confederate flag over his grave and placed olive branches and peppermint on it. She said the olive branches symbolizes the champion that Dahmer was and the peppermint represents healing.
"As I laid the rebel flag down across Vernon's grave, I told my grandson what it represents — our hope that racism and hatred would die," Bivins said. "That it would be killed at the root of our hearts, minds and souls."
Bivins said her demonstration was inspired by this week's runoff election, one that brought the racism and lynching in Mississippi's past back into focus. On the ballot was Senator Cindy Hyde-Smith, who told one supporter that she'd be "on the front row," if he "invited me to a public hanging."
Her campaign team called the comment an "exaggerated expression of regard," but the comment still cost her backing from big name donors like Walmart and Google.
CNN also reported that Hyde-Smith once promoted a measure that praised a Confederate soldier's effort to "defend his homeland" and had pushed a revisionist view of the Civil War.
—
Keith Kahn-Harris // 'White supremacy' is really about white degeneracy | Keith Kahn-Harris | Opinion | The Guardian – The rhetoric of the likes of Donald Trump, Viktor Orbán, Steve Bannon and other figures in the ascendant populist right might not openly embrace "white power", but there is no doubt that open white racists have been emboldened by them. Trump may have not wanted Richard Spencer (who coined the term "alt right") to gleefully exclaim: "Hail Trump, hail our people, hail victory" just after the 2016 US election, but he was not particularly bothered by it either.
—
Billionaire money for Hitler then, for AfD now | Dear Kitty. Some blog – By Peter Schwarz in Germany:
From the Nazis to the AfD: Big business finances the far-right
28 November 2018
According to an investigation by the weekly Der Spiegel, the rise to prominence of the far-right Alternative for Germany (AfD) was facilitated by huge financial contributions from 88-year-old billionaire August von Finck. His father, also named August von Finck, financed Adolf Hitler and made a fortune by confiscating Jewish property through the process known as "Aryanisation".
Der Spiegel concludes that several million euros that flowed into the founding and development of the AfD originate from Finck's business and financial empire. In 2013, Finck was placed 10th on the Forbes list of the richest Germans, with a fortune of $8.2 billion. In order to avoid paying taxes, Finck has lived since 1999 in an old castle situated in Weinfelden, Switzerland.